---
What is the NALC Letter Carrier Political Fund?
Why should I give to our Union's Legislative Program?
The Letter Carrier Political Fund is a non-partisan political action committee (PAC) established for the purpose of fighting legislation that is detrimental to Letter Carriers as well as the Postal Service, promoting legislation that would enhance and protect our retirement, health care, and wages, and electing qualified candidates who support letter carriers and who are committed to maintaining a strong and innovative U.S. Postal Service.
Each year, NALC fights to fend off attacks in Congress that threaten letter carriers' collective-bargaining rights, retirement benefits and livelihood. We've been successful so far, and we want to continue helping to elect House and Senate candidates who will protect us, promote our issues and deliver our message to Washington.
Since union dues can't be used to fight legislative bills attacking our wages, rights, benefits, retirement, health care, or support candidates for political office, NALC relies 100 percent on member contributions to the LCPF, which in turn helps us support those on Capitol Hill who defend the issues that matter most to us. Our PAC brings together in Washington strong letter carrier advocates—from all political parties—who are dedicated to helping to defend a strong USPS that provides universal, innovative and affordable service.
If we as members do not fight back some, if not all, of the following budget hits being proposed by the Presidential Administration and many members in Congress will take affect decimating the future wages of all Letter Carrier, both active and retired. These proposals include the following:
Raising all federal employees' pension contributions by up to 6.45 percent of pay over the next six years, costing active letter carriers up to $3,600 per year.
Eliminating cost-of-living adjustments (COLAs) for current and future retirees under the Federal Employees Retirement System (FERS).
Reducing CSRS and FERS pension benefits for new retirees by basing annuities on employees' highest average pay over five years (high-5) instead of over three years (high-3).
Eliminating Social Security supplement for FERS employees who retire before 62. If the supplement is eliminated through Legislation, you would lose if you retired at age 57 with 30 years of career federal/postal service up to $60,000 of your retirement income!
And if all of this wasn't bad enough a report being discussed in Congress is now proposing completely privatizing the United States Postal Service. If this occurs we can expect loosing between 30 to 50% of our delivery jobs. Workweeks would be cut from 5 days a week to 3 days a week. In addition, hourly wages would be reduced for all Letter Carriers who remained from 40% to 50% and benefits would be severely reduced if not completely eliminated.
These are the reasons we are asking you as a member to help your union protect your job and participate in the NALC Letter Carrier Political Fund (LCPF).
Our National President Fred Rolando has stated "By making just a $5 donation per pay period, you are building the political power of all letter carriers"
Please work with your union in our shared fight to protect your wages and benefits by joining the Letter Carrier Political Fund.
By making a contribution to the Letter Carrier Political Fund, you are doing so voluntarily with the understanding that your contribution is not a condition of membership in the National Association of Letter Carriers or of employment by the Postal Service, nor is it part of union dues. You have a right to refuse to contribute without any reprisal. The guideline amounts listed above are merely suggestions, and you may contribute more or less than the guidelines suggest and the union will not favor or disadvantage you by reason of the amount of your contribution or your decision not to contribute. The Letter Carrier Political Fund will use the money it receives to contribute to candidates for federal office and undertake other political spending as permitted by law. Your selection shall remain in full force and effect until cancelled. Contributions to the Letter Carrier Political Fund are not deductible for federal income tax purposes. Federal law prohibits the Letter Carrier Political Fund from soliciting contributions from individuals who are not NALC members, executive and administrative staff or their families. Any contribution received from such an individual will be refunded to that contributor.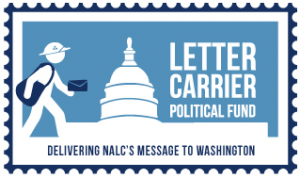 For more information or for help signing up, contact:

Brian Wiggins wsalcprez@outlook.com
Total Page Visits: 3477 - Today Page Visits: 2